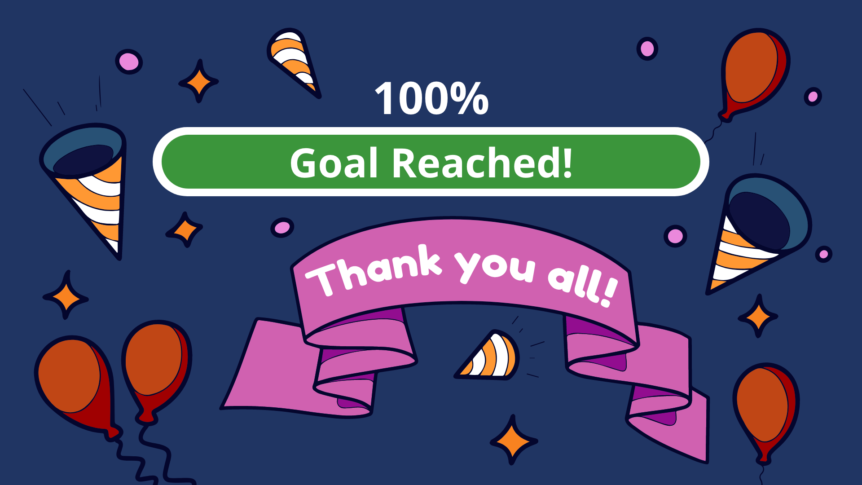 Today, I am honored to announce that we have reached our $100K phase 1 fundraising goal! We are grateful to the 256 people who made a pledge to our mission – to preserve the digital legacy of all people – and who share our vision for a new paradigm in digital storage.
The Path to Success
Over the last few months, we've been humbled by your interest and support. We were only just writing about that in May and before we could blink, we reached our goal.
Pledges made to our campaign came in all sizes ranging from $3 to $30,000, with the majority between $10 and $20 and the average coming in at $414. While many folks chose to make their pledges anonymous, those who did not will be publicly recognized as founding supporters of the Permanent Legacy Foundation.
Our pledges came from family historians tracing their ancestors' migration, parents preserving the many firsts of their young childrens' lives, archivists helping organizations capture their creative history, educators inspiring the next generation of creative professionals, and ethical consumers looking for a healthier digital alternative.
With your generosity, we are now ready to move on to phase 2.
Our Fundraising Strategy
We chose a pledge campaign model for our phase 1 growth strategy in order to stay true to our mission, vision, and values. A pledge campaign strategy allowed our very first users to delay their contribution without missing an opportunity to get involved. It also allowed us to build towards our goals in a way that limited the risk to our users and ourselves both.
Storage fees on Permanent.org are used for digital preservation, not for profit. In the Permanent model, a one-time payment for dedicated storage preserves precious memories and supports an institution that will be there to protect the digital legacy of all people for all time.
As a public charity, we can pool all our one-time storage fees into an endowment. We use income generated from this tax-exempt investment fund to pay our ongoing operations and storage costs, in perpetuity. In this way, we are leveraging the same funding models used by museums, libraries, and universities for centuries. Our endowment will reach a critical mass when we have enough users, with enough endowed storage, to cover the cost of our operations.
We remain committed to a transparent, grassroots fundraising campaign as we continue to grow towards that critical mass. We believe that making contributions to Permanent transparent builds public confidence and trust. We want the whole world to see that there are people who believe there should be a better way to save our stories for the future, together.
Digital preservation is an issue that affects all people and doesn't have a quick and easy solution but one thing is certain, widespread digital preservation cannot be based on individual storage subscription models. While countless scholars, organizations and platforms are working hard to preserve modern digital content for future generations, Permanent is focused on a particular one-time payment solution for the general public.
What Comes Next?
Our first step will be to seed our endowment through the fulfillment of our phase 1 pledges.
All funds collected will be placed in our endowment account at Goldman Sachs. These funds will be managed by Goldman Sachs, under the stewardship of the Permanent governing board while we get to work forming an endowment advisory board. The role of the endowment board will be to direct the prudent, mission- and values-aligned management of our endowment funds; we look to examples like the Wikimedia Endowment to guide our work.
Permanent will need to make significant progress in our phase 2 fundraising goal before the endowment will be large enough to warrant meaningful investment decisions by the endowment advisory board. Our work now is to get us to that next goal, and we're ready to go.
Phase 2 will be all about making the invitation more inviting. As a nonprofit organization, we have the opportunity to take advantage of the Google Ad Grants program to run significant advertising at no cost. We've been working on an overhaul to our website to better reach the people who we know are looking for a new solution: parents and families, family historians, creative professionals, educational institutions, and nonprofit organizations. We are also pursuing new opportunities to be featured in partner newsletters, blog posts, and other media.
Inside the Permanent.org application, we're working on enhancing our core features to make it more seamless for everyone to get involved. Making uploading, sharing, and publishing easier and more inviting, and introducing mobile apps will allow our users to easily bring friends and family into Permanent. You'll already notice some changes like private sharing by web link, and you can look forward to publicly-searchable archives in upcoming releases. We're very excited for you to see this big user interface upgrade we're rolling out that will make the Permanent experience clean, modern, and fully mobile responsive.
We're also looking for funding and partnership opportunities that will expand our resources. We're excited about our new partnership with Open Tech Strategies focused on improving the reliability of our platform and together we have submitted a proposal to the Grant for the Web program. The second half of 2020 will also see a Permanent integration go live on the FamilySearch partners site. We're also excited to be preparing a proposal for the Amazon AWS Imagine Grant Program.
Get Involved
Are you passionate about the Permanent mission? Join our phase 2 fundraising campaign today by making your first donation or by building on your phase 1 contribution. It's not too late to become a recognized founding supporter of Permanent.
You can get even more involved in Permanent by joining our community user group, where you can try out new features before everyone else, and have your voice heard in our design and organizational strategy.
Become an ambassador and help us spread the word simply by choosing Permanent when you want to share your most important memories with others. And of course, follow us on Facebook, Twitter, Instagram and LinkedIn!